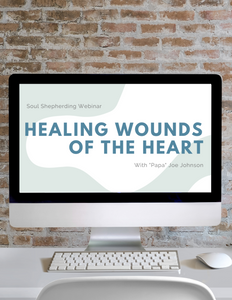 Every heart needs healing. Unresolved emotional wounds keep us from living out of the hearts Jesus has given us. Emotional healing sets hearts free to grow into the person God intended us to be! Join "Papa Joe" as he guides you through identifying wounds of the heart and helps you to receive emotional healing for your heart wounds.
During this

 

1 hour

 

webinar you will:
Identify wounds of the heart in yourself
Receive emotional healing for your heart wounds
Learn steps for ministering emotional healing to others
Discover ministry tools from multiple emotional healing streams 
Experience healing of Father's love and Immanuel's presence
*Please note that we are unable to offer a refund on digital products.