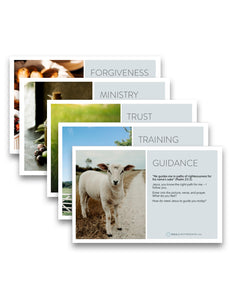 by Bill & Kristi Gaultiere
These inspiring pictures with prayer prompts from Psalm 23 invite you to trust Jesus as your Good Shepherd. This set includes 11 pictures that open a window to your soul because what you see depends on how you feel about your life today. Best of all, they make a space for you to hear God's voice and share your story with your friends.
All our sets of Visual Devotions are great for fostering soul talk in small groups.
Note: This is not a PDF download. You will receive 11 physical cards wrapped as a set.
Below you can see an example of one of the visual devotion cards: