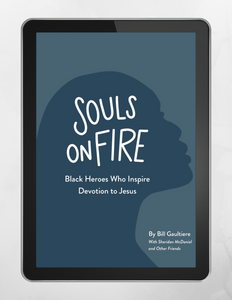 By Bill Gaultiere with Sheridan McDaniel and others
Reading the stories of heroes of faith strengthens your soul and renews your intimacy with Jesus. God's love and glory shine powerfully through the lives of these men and women who were especially devoted to Christ Jesus and his Gospel.
This devotional collection brings you the faith journeys and wisdom of five Black brothers and sisters from the past. They overcame injustice and suffering to love Jesus and people by living in God's presence, grace, and power. 
In this e-book you will appreciate:
An inspiring introduction to the classics of devotion to Christ
The remarkable life stories of Martin Luther King Jr., Jarena Lee, Harriet Tubman, Samuel Kaboo Morris, and Charles Tindley
Reflections by Bill Gaultiere,

Sheridan McDaniel

, and other guest authors
Soul Talk Questions for personal reflection or to share with a small group
It is our hope that in this collection of devotions on Black heroes of faith, people of every race will find shared empathy and encouragement from the Lord. May the Spirit of God set our souls on fire with love for Jesus and all people!

 *Please note that we are unable to offer a refund on digital products.