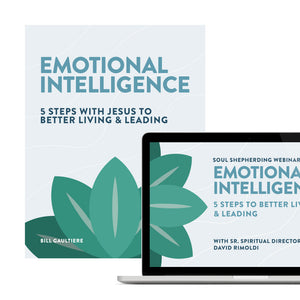 In this bundle, you will get access to:
 - Emotional Intelligence: 5 Steps with Jesus to Better Living & Leading ebook by Bill Gaultiere
Most people value thinking over emotion. However, research shows that emotional intelligence is actually more important to success in life than intellectual intelligence, and the Bible confirms that our emotional nature is just as God-created and valuable as our cognitive nature. In fact, developing a higher EQ not only leads to increased love, joy, and peace—but increased influence for Christ. This Ebook will walk you through how to increase your emotional intelligence through five core competencies—self-awareness, managing emotions, activation, relating with empathy, and teaming with others—so you can draw on Christ's empathy, wisdom, and power, and lead the way Jesus did.
- Emotional Intelligence: 5 Steps with Jesus to Better Living & Leading Webinar Recording
In this Webinar, Soul Shepherding Sr. Spiritual Director, David Rimoldi will walk you through the five SMART steps to improve your Emotional Intelligence (EQ): Self-Awareness, Managing Emotions, Activation, Relating with Empathy, and Teaming with Others. He will help explain how Jesus demonstrated these EQ traits in his ministry and relationships and will lead you through some effective EQ Practices to help strengthen your emotional intelligence.
*Please note that we are unable to offer a refund on digital products.