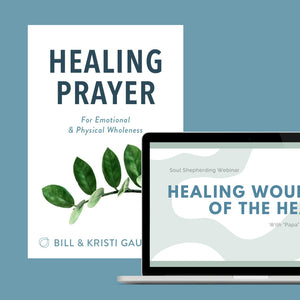 In this bundle, you will get access to:
- Healing Prayer for Emotional & Physical Wholeness ebook by Bill & Kristi Gaultiere
Nobody wants to be stuck with a bad diagnosis or emotional problem and not know how to access God's wholeness of life. You can be ready with the faith and resources to receive Jesus' healing touch wherever and whenever it's needed for you or those you care for. This book is a practical guide to healing prayer as it's taught in the Bible and modeled by Jesus and his disciples. It's great for personal devotions, small groups, or training prayer ministers.
Special Features:
How to build your faith through prayer experiments
Five steps to receive or minister Christ's healing touch
Nine emotional healing prayer starters
200+ bible verses for personal wholeness
- Healing Wounds of the Heart Webinar Recording
Every heart needs healing. Unresolved emotional wounds keep us from living out of the hearts Jesus has given us. Emotional healing sets hearts free to grow into the person God intended us to be! Join "Papa Joe" as he guides you through identifying wounds of the heart and helps you to receive emotional healing for your heart wounds.
During this

 

1 hour

 

webinar you will:
Identify wounds of the heart in yourself
Receive emotional healing for your heart wounds
Learn steps for ministering emotional healing to others
Discover ministry tools from multiple emotional healing streams 
Experience healing of Father's love and Immanuel's presence
 *Please note that we are unable to offer a refund on digital products.