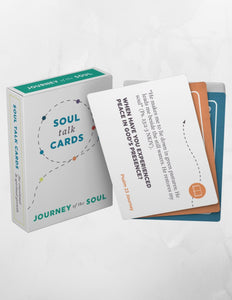 A fun way to grow emotionally and spiritually!
Pick any card and you'll discover new blessings and insights for your journey with Jesus.

Each Soul Talk Card features a key Scripture and question to guide you in applying the material from Journey of the Soul by Bill and Kristi Gaultiere. Prompts for each card relate to the key features of the CHRIST stages of emotional and spiritual growth: Psalm 23 Journey, Jesus in the Stage, Spiritual Discipline, Stage Theme, Roadblock, Grace, and Breath Prayer.

Simply flip through the cards for personal meditation and prayer. Friends can take turns picking cards to read to deepen their friendship and intimacy with Jesus.

Special Features:
Deck of 53 cards & tuck box (poker size)
Each card has a Bible verse and question for reflection or conversation
7 cards for each of the CHRIST stages and The Wall
(These Soul Talk Cards are based on the book Journey of the Soul by Bill and Kristi Gaultiere)