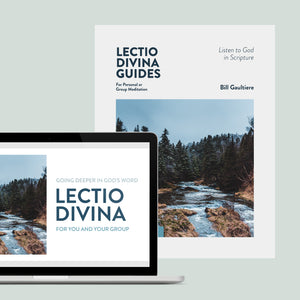 In this bundle, you will get access to: 
  - Lectio Divina Prayer Guide Ebook by Bill Gaultiere
By quieting your heart to listen to God in Scripture you can better hear the Lord's voice and grow spiritually. These field-tested guides use Benedict's classic approach to meditation. They're great for personal devotions, spiritual mentoring, retreats, and small groups. To pick a meditation just look through the index of Scriptures with soul care titles as you pray for God to guide you to the one that will be most helpful for you or your friends.
Special features:
Simple steps to hear God in a Bible passage
Scripture texts with brief introductions
Prompts for prayer, journaling, or soul talk
70+ one-page meditations to print and share
You can view the Table of Contents

 

here
 - Growing Deeper in God's Word: Lectio Divina Online Course
Our Going Deeper into God's Word online course includes 7 online videos (2 and 1/2 hours of content) and Lectio Divina Group Leader's Guide. We show you how to do Lectio Divina in your personal devotions as well as equip you to confidently lead a group.
 *Please note that we are unable to offer a refund on digital products.